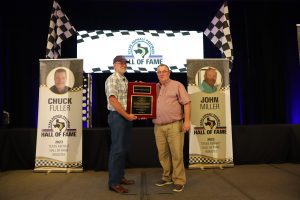 The Texas Department of Transportation's Atlanta District is proud to announce that recently retired Statewide Seal Coat Coordinator Dennis Berryhill was named the recipient of the Bob M. Gallaway Award at the Texas Asphalt Pavement Association's annual meeting in San Antonio.
The Gallaway award is presented to recipients who have made significant contributions to seal coat, a process essential in maintaining our nation's transportation system. Berryhill, a 34-year TxDOT veteran, retired in August, shortly before receiving the honor. Berryhill spent the majority of his career in TxDOT's Atlanta District and was named the agency's first Statewide Seal Coat Coordinator in 2018. He worked with TXAPA, the Associated General Contractors of Texas and those within TxDOT to build the Texas Seal Coat Performance Improvement Program. Berryhill also initiated the program to certify seal coat inspectors and specialists. He tirelessly traveled the state to ensure training in each of the agency's 25 districts met TxDOT's high standards.
"Dennis is a rare person with the knowledge and passion for the seal coat program," said AGC of Texas Area Manager Michael Lee. "He understands all of the variables in a process that can be quite complicated."
"We were blessed to work alongside Dennis for so many years," said Atlanta District Engineer Rebecca Wells. "From TxDOT veterans to our summer interns, he had something to teach everyone and is widely respected."
The award Berryhill received was established in honor of Bob M. Gallaway, a Texas A&M University professor who was a world-renowned expert in asphalt paving materials technology. Gallaway's research greatly enhanced seal coat, a process that involves applying hot asphalt and a layer of rocks to preserve an existing paved surface.
TXAPA is a nonprofit organization dedicated to the advancement of the asphalt pavement industry.
Follow TxDOT's Atlanta District on Facebook @TxDOTAtlantaTX, Instagram @txdotatlanta, X @TxDOTAtlanta and Nextdoor.